The byllion is equal to 1016 in the myriad system[1][2][3], or 10 squared 4 times. It is equal to 10 quadrillion in the short scale and 10 billiard in the long scale.
Its full decimal expansion is 10000000000000000.
It is also called Jing (京 in Chinese) or Kei (けい in Japanese) in both Japanese counting system and Chinese counting system.[4]
Aarex Tiaokhiao calls this number sxdoocol or 16-noogol.[5]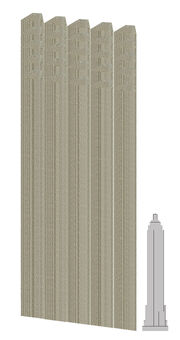 As a banknote denomination
Edit
Only the Hungarian pengő had banknotes with this number in the denomination.
Written out in decimal form byllion is:
10000000000000000
Approximations
Edit
See also
Edit
Community content is available under
CC-BY-SA
unless otherwise noted.