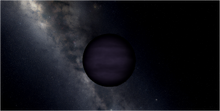 A Class Y star is the dimmest type of star, classed as a sub-brown dwarf or planetary-mass brown dwarf that may not be large enough to undergo deuterium fusion[1]. A typical Class Y star has a temperature of around -63 - 800 F(220 - 700 K), a mass of around 5-13 times that of Jupiter(although this is a bit vague), and a similar radius to Jupiter under most circumstances.[2] They are often classified as large rogue planets.
Examples
These are the 7 Y-type stars discovered by J. Davy Kirkpatrick et al. in 2012:[5]
WISE 0146+4234
WISE 0350−5658
WISE 0359−5401
WISE 0535−7500
WISE 0713−2917
WISE 0734−7157
WISE 2220−3628
See also
Brown Dwarf Classes
Y · T · L
References
Community content is available under
CC-BY-SA
unless otherwise noted.