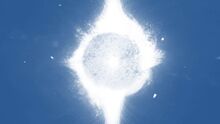 A
neutron star
is a stellar remnant left after a
giant
star
with too little mass to form a
black hole
when it dies. It is dense enough to reach the neutron degeneracy pressure, when the pressure is high enough to combine protons and electrons to form neutrons, and therefore has a mass of greater than 1.4 solar masses (the Chandrasekhar limit).
The maximum mass of a neutron star is given by the Tolman–Oppenheimer–Volkoff limit, and is somewhere between 2.0 and 3.0 solar masses.
Community content is available under
CC-BY-SA
unless otherwise noted.