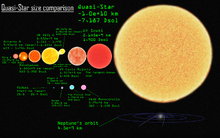 A quasi-star, also known as a black hole star, is a hypothetical type of star where a star contains a black hole at its core. They are likely to have existed beginning of the history of a universe. They form when the core of a large protostar collapses into a black hole during its formation. After its formation, it will continue to generate a large amount of radiant energy from the infall of additional stellar material. They have temperatures of 4,000 K, but they can pertain much larger sizes than that of a hypergiant or supergiant, with lower estimates at approximately 10 billion km or 7,187 times that of the Sun, which beyond the Hayashi limit, which indicates 3.6 billion km or ~2,600 times the size of the sun based on the metallicity of the Milky Way. The maximum lifespan of a quasi-star is 7 million years, after which the core black hole would have reached 10,000 solar masses.
Community content is available under
CC-BY-SA
unless otherwise noted.