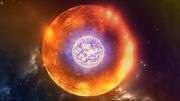 A Thorne–Żytkow object (TŻO or TZO) is a conjectured type of star wherein a red giant or supergiant contains a neutron star at its core, formed from the collision of the giant with the neutron star. Such objects were hypothesized by Kip Thorne and Anna Żytkow in 1977. In 2014, it was discovered that the star HV 2112 was a strong candidate but this has recently been called into question.
Formation
A Thorne–Żytkow object is formed when a neutron star collides with a star, typically a red giant or supergiant. The colliding objects can simply be wandering stars. This is only likely to occur in extremely crowded globular clusters. Alternatively, the neutron star could form in a binary system after one of the two stars went supernova. Because no supernova is perfectly symmetric, and because the binding energy of the binary changes with the mass lost in the supernova, the neutron star will be left with some velocity relative to its original orbit. This kick may cause its new orbit to intersect with its companion, or, if its companion is a main-sequence star, it may be engulfed when its companion evolves into a red giant.
Once the neutron star enters the red giant, drag between the neutron star and the outer, diffuse layers of the red giant causes the binary star system's orbit to decay, and the neutron star and core of the red giant spiral inward toward one another. Depending on their initial separation, this process may take hundreds of years. When the two finally collide, the neutron star and red giant core will merge. If their combined mass exceeds the Tolman-Oppenheimer-Volkoff limit then the two will collapse into a black hole, resulting in a supernova that disperses the outer layers of the star. Otherwise, the two will coalesce into a single neutron star.
If a neutron star and a white dwarf merge, this could form a Thorne–Żytkow object with the properties of an R Coronae Borealis variable.